A TRIBUTE GAME FOR THE ANZACS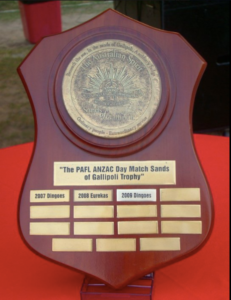 All that PAFL needed now to be complete was to follow in the footsteps of the many other great Australian Sporting organisations and honour our ANZAC heritage and tradition. Through the generous and unwavering support from the Australian Defence Force (ADF), PAFL is able to incorporate the spirit of the ANZAC tradition into their competition every ANZAC weekend.
The inauguration of this joint effort commenced on the ANZAC weekend of 2007 when the Defence Attaché to the Philippines, Colonel Chris Burns, CSC, graciously presented a memorial medal "sands of Gallipoli" to the mighty Philippine Australia Football League to inaugurate the "PAFL ANZAC Trophy". The "sands of Gallipoli" medal was subsequently mounted onto a plaque and is contested on an annual basis, on or around ANZAC Day, between the Eurekas and the Dingoes.
Each year, the Defence Attaché to the Philippines also donate a medal known as the ANZAC medal, which is awarded to the player who best typifies the ANZAC spirit – courage, tenacity, initiative and teamwork. The winner of this medal is voted upon and decided solely by the Defence Attaché to the Philippines. Unlike the PAFL ANZAC Trophy, the ANZAC medal is not perpetual with a new one provided through the Defence Attaché each year. PAFL believe that the player good enough to win the ANZAC medal deserves to keep this in memory of what the award represents.