Saturday 28th September 2019
[two_fifth]
It has become one of the must-attend a sporting social event in Manila and this year will be no exception, so lock in the date for the 2019 AFL Grand Final.
Then join us on Sat 28th September to watch the 2019 AFL Grand Final live on the Big Screen. This Gala event is the only place to watch that biggest day in footy.
Ticket Price includes a 3-course all-inclusive luncheon package starting at 10 am with the live-action telecasted on the big screen, as well as giveaways, raffles and much more making it a great day for you, friends and the whole family.
Ticket Price includes a 3-course all-inclusive luncheon package starting at 10:00 am and will conclude around 5.00pm. (Beer, wine and, Coca-Cola is available day event). Tickets available for the event are:
Package available for the event are:
Tables of 10: P32,000
Regular Price: P3,500.00 p/head
Kids (Under 14yr): P500 p/head
There will be giveaways, raffles and much more make it a great day for you, friends and all the family. Tickets can be ordered via registering below. For more information, please contact marketing@anzcham.com
[button color="red" size="big" link="https://www.eventbank.com/event/afl-grand-final-16159/" icon="" target="false"]Book Your Ticket Now[/button]
[/two_fifth][three_fifth_last]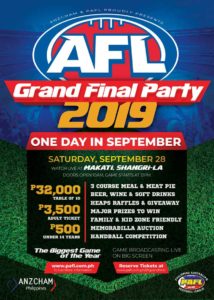 [/three_fifth_last]